Invest Your Trust In Us
We, at Diagnear abide by our four promises and aim to deliver the best health checkup experience for you. We assure a hassle free process with the ease of home sample collection and a state of the art facility that ensures accurate and timely results.
We intend on spreading awareness regarding the importance of health checkups and promoting self care as it is the need of the hour. We care, for you

CONVENIENT
Free & On-time Home Sample Collection
ACCURATE
Uncompromised Precision and Quality
RELIABLE
Latest Technology & Advance Equipment
ECONOMICAL
Competitive Pricing Structure
Comprehensive
Preventive Health Checkup Packages

in Delhi NCR View All
Diagnear is a world-class Diagnostic Pathology Lab in Delhi NCR, providing blood sample collection from home and same-day reporting at your doorstep for the most convenient diagnostic experience. As one of the best pathology labs in Delhi NCR, we have viable yet thorough health checkup packages to meet your requirements.
Diagnostic centres undertake medical diagnosis so that one is aware of their health and can take necessary measures. As a well-known and deemed as the diagnostic centre or the best pathology lab in Paschim Vihar, we provide the best in class diagnostic services to assure the best care for your health and wellness. Our satisfied customers drive us and it motivates us to perform to the best of our abilities and be the best diagnostic lab in the country.  
Diagnear, a Diagnostic centre in Delhi NCR, is dedicated to making your health checkup experience a carefree one by ensuring free blood sample collection at home and same-day reporting. We have a well-equipped team of collection agents to make this possible and reach out to you on time throughout Delhi and NCR.  
One can simply avail of our diagnostic services with just a click, book a full body checkup at home, and have our team reach your doorstep to take free blood sample collection at home for a convenient health checkup experience. We are one of the best pathology labs in Delhi NCR, offering customizable health checkup packages that any other diagnostic and pathology labs do not offer.    
Our pathology lab in Delhi NCR is well equipped with top-of-the-line machinery and apparatus that is recognized internationally, making us stand out from other pathology labs in Delhi NCR. We have a well-versed team of pathologists and health experts determined to give the best services in a timely manner for our customers to have a hassle-free health checkup experience.  
Diagnostic centers traditionally would just meet basic criteria for health checkups, but given the development in the field and our years of experience and extensive knowledge, we, as the best pathology lab in Delhi NCR, offer our expertise to your benefit. We have a knowledgeable team of pathologists and health experts that guide you through your health checkup experience and answer all your queries.  

Moreover, we provide free blood sample collection at home Delhi and same-day reporting at your doorstep. We ensure to give timely and accurate reports without fail. We guarantee accurate and timely reports, given the world-class equipment and machinery installed at our diagnostic lab in Delhi NCR.
Furthermore, our team is promptly available at our diagnostic lab number to attend to all of your needs.  
Diagnostic Centre & Pathology Lab In Delhi
If we look at the world we live in today, getting out of the house to get tested might even result in more diseases than you can imagine. So, how about a pathology lab in Delhi that travels to your home? If you are looking for a lab that conducts blood sample collection at home, professionals at Diagnear are the ones who you should brace yourselves to call. From full body checkup packages to efficient home blood sample collection, you will get everything at Diagnear and more at just the click of a button.
Diagnear is the best diagnostic center in Delhi because it understands how the world works now and has molded its services at just the click of a button. You can simply visit our website and choose from the comprehensive healthcare packages available to get a headstart if things go sideways.
We work round the clock and at the behest of our customers, which makes Diagnear the best pathology lab in Delhi, and if you haven't tried our services, we are certain that you would go away with a similar impression because of efficiency and accuracy in delivering results speak for itself. We have modeled our entire gamut of services around your convenience; regardless of whether it is blood test at home, blood test home collection, or lab test home, we extend our professional services to the comfort of your four walls.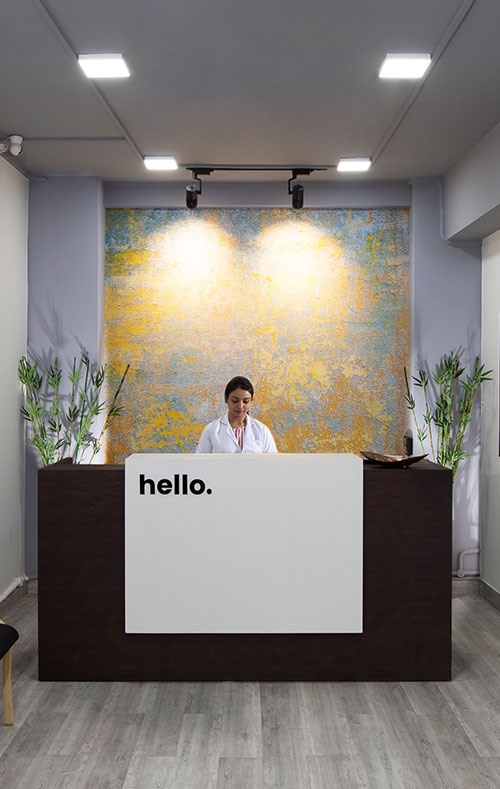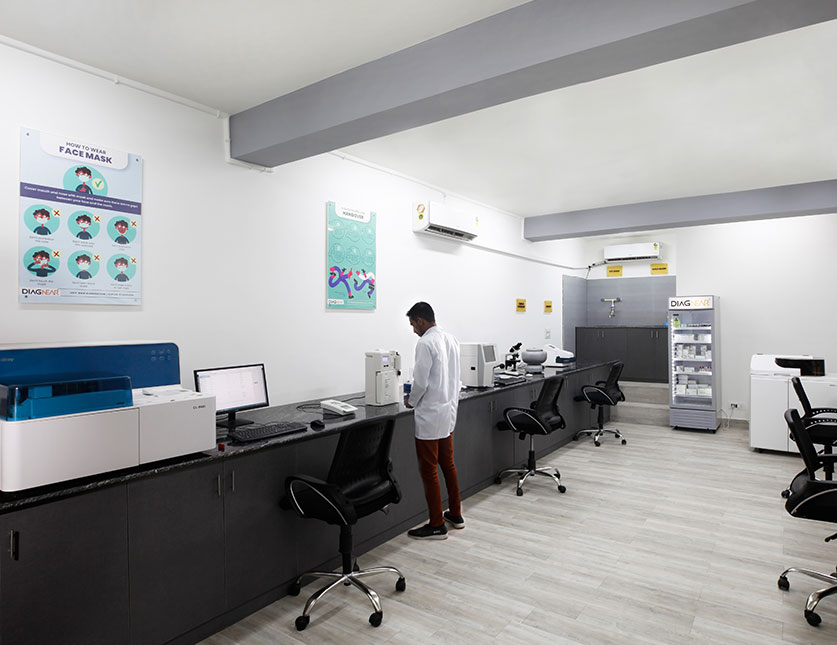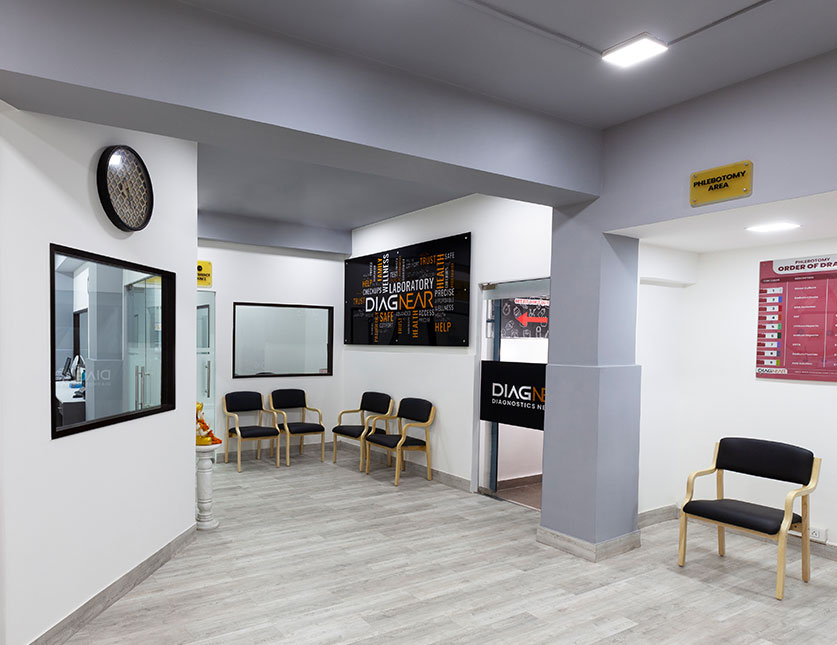 Popular
Tests & Profiles

in Delhi NCR for Home Sample Collection View All
Being aware of one's health and keeping track of the same is a vital requisite. With Diagnears health checkup packages in Delhi NCR, knowing about what is going on in your body and taking necessary actions to ensure good health, have become easy. Select a package that suits your needs and book an appointment with free home sample collection in Delhi NCR.

Rightly it's said the ones who have experienced it can express it in the best way too. Our customers have shared their usual encounters with us and our team who helps them through the process of home collection in Goa. They have felt the ease with every home sample collection in Goa they have booked.
Diagnear has helped me in such an amazing way for home sample collections especially during the time of this pandemic to systematic reports. It all went well with them.
Rachna
Porvorim, Goa
Very professional and comforting people. Also, they are pretty quick and good with their services.100% Recommended
Ravindra
New Delhi, Delhi
I got my lipid profile along with some other major tests done by them. Their packages are cost-effective and results seemed to be helpful.
Sudhir Parab
Mapusa, Goa
#CareForSelf
Nothing is more vital than #CareForSelf with a transparent process of getting a glimpse of your health from within. With a derive of exceptional and meticulously curated packages and tests we bring to you the best insights through our social media handles and not just that but some encouraging deals on health checkup packages in Delhi.